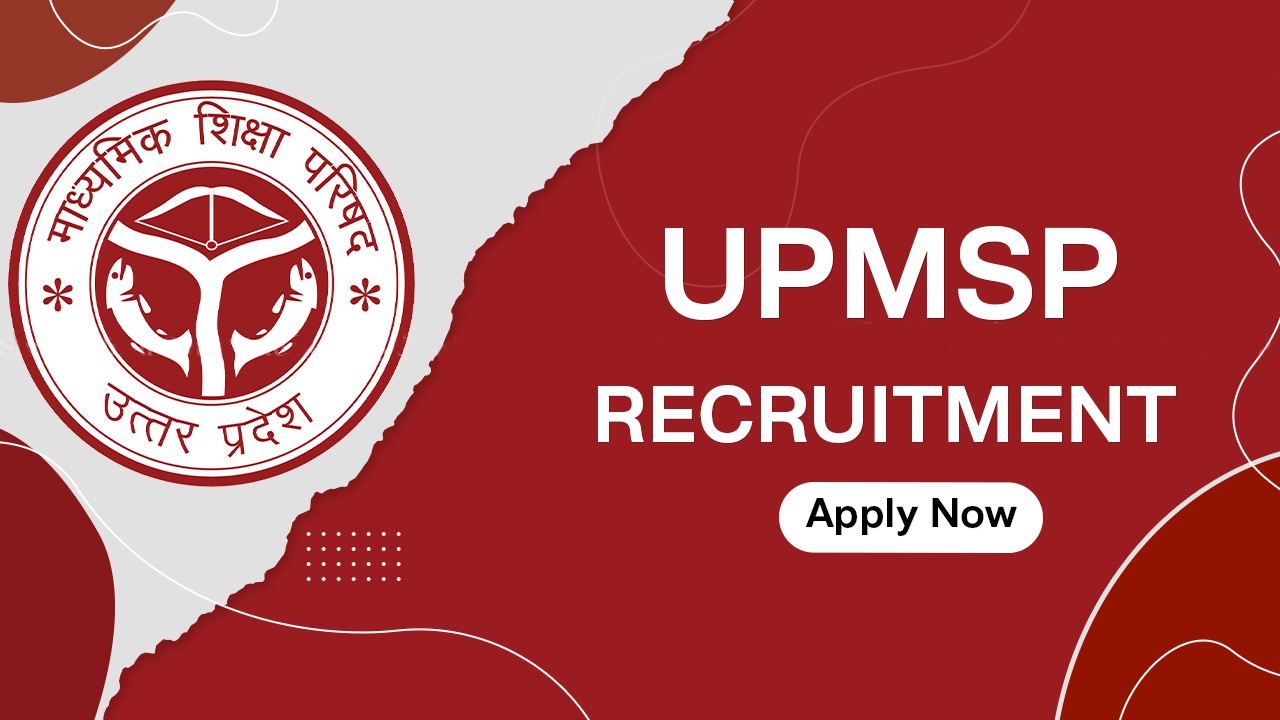 UPMSP Recruitment 2022:
Board of Secondary Education, Uttar Pradesh (BSEUP)/Uttar Pradesh Madhyamik Shiksha Parishad (UPMSP) has invited Applications from the PET-Qualified Candidates fulfilling Eligibility for Clerk Post in Non-Government Aided Secondary Schools.
The PET Qualified Candidates with the Prescribed Educational and Professional Qualifications are Eligible to apply in Offline Mode.
There are 1621 Vacancies for UPMSP Clerk Posts in various Non-Government Funded Secondary Schools across Uttar Pradesh.
The Last Date for duly completed Applications supported by the PET Certificate Detailing Registration Number, Enrolment Number, Actual Score, Normalized Score and Percentile Score, Other Education related Certificates, 01 Postal Order/Bank Draft for Rs.750.00 receivable in the Offices of District School Inspectors shall close on 27th October 2022 (27.10.2022).
Selection Criteria:
Selection to the Post Clerk shall be based on the Candidate's
i) Computer-Based Typewriting (Qualifying in nature) and
2) Interview for 20 Marks with Higher Scores in the PET yielding Final Merit.Check the Below-Given
Eligibility Details for UPMSP Recruitment 2022
Employer Name:
Uttar Pradesh Madhyamik Shiksha Parishad (UPMSP)Employment Opportunity: Recruitment of Clerks in Non-Governmental Aided Secondary School in Uttar Pradesh
Post Nomenclature:
Clerk (1621 Vacancies)Essential Qualifications: Eligible Candidates should fulfill the Eligibility Criteria explained hereunder
1) UP PET Certificate Detailing a) Registration Number, b) Enrolment No., c) Actual Score, d) Normalised Score and e) Percentile Score
2) The Department of Electronics and Accreditation of Computer Courses (DOEACC)/National Institute of Electronics and Information Technology (NIELIT) CCC Certificate or the Certificates issued by the Equivalent Insitute
3) Computer-Based Typewriting Speed at 25/30 Words Per Minute in Hindi/English
4) Passed Intermediate (10+2) Examination from the Board of Secondary Education, Uttar Pradesh Or The Central Board of Secondary Education (CBSE) Or having passed Matriculation/Intermediate with Computer Science as a separate Subject. Or
5) Diploma in Computer Science/Degree. Or
6) Passed Diploma in Computer/Post-Graduate Diploma in Computer Applications/Bachelor of Computer Applications/Master in Computer Management/Bachelor's Degree/Higher Degree (B.A./B.Sc./B.Tech./M.Sc./MBA).
Key Dates to Remember:
i) Last Date for receipt of Duly completed Applications through RPAD/Speed Post to the Institute Manager: 27.10.2022
ii) Merit List Preparation Based on the PET-Based Percentile Scores: Up to 06.11.2022
iii) Conducting Computer-Based Typewriting Test: Till 04.12.2022
iv) Interview of the Computer-Based Typewriting Test Qualified Candidates: Up to 10.12.2022
v) Preparation of Merit List based on PET Scores and Interview: Up to 17.12.2022
vi) Dispatch of Manager obtained Selection List from the Selection Committee with and all the Records to the Inspectors of the Schools: Up to 24.12.2022
vii) Post completion of Due Examination, etc. Issuance of the Appointment Letters by Appointing Authority/Manager
How to Apply for UPMSP Recruitment 2022
Log on to UPMSP Website www.upmsp.edu.in
Disclaimer:
The Recruitment Information provided above is for the Informational purposes only.
We do not provide any Recruitment Guarantee.
The Recruitment is to be done as per the Official Recruitment Process of the Company or the Organization posted Recruitment Vacancy. We don't charge any Fee for providing this Job Information.
Neither the Author nor Studycafe nor its Affiliates accepts any Liability/ies for any Loss or Damage of any kind arising out of any information in this Article nor for any actions taken in reliance there.